PETER C. SMITH | VICE PRESIDENT OF ESTIMATING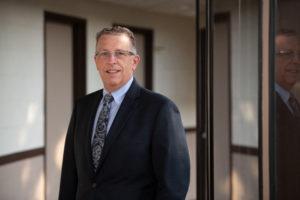 Pete is vice president of estimating for J. Fletcher Creamer & Son, Inc. Pete oversees the department responsible for bidding, negotiating, and securing contracts for the company, in both the public and private sector. Developing and maintaining client relationships is the foundation of their success.
Pete graduated from the University of Hartford with a Bachelor of Science in Civil Engineering and knew that heavy civil construction would be his career path.
After graduation, he spent 10 years working for a small family owned bridge builder in Connecticut, as an office engineer, project engineer, and estimator. A move to New Jersey was next, and over the next 11 years he worked for several heavy civil contractors in New Jersey and New York. Pete spent 4 years in the field as a superintendent and then transitioned to estimating as a senior estimator.
Pete found his way to Creamer in 2005 when he joined the team as a senior estimator. In 2009, he was promoted to Chief Estimator, moving to the Linden office. In 2018, he was chosen to join the management team as vice president of estimating. Pete's vision is to encourage the collaboration of his estimating group. Each member exhibit strengths and expertise that compliment those of the rest of the team. Having been the lead estimator on many projects in his career, he sees the value in a team approach to estimating. It's a great feeling when you can share the success of securing a contract with your colleagues.
To learn more about working with our team, contact us today!