JAMES K. VALENTI, P.E., ESQ. | CHIEF LEGAL OFFICER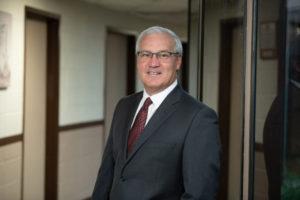 Jim has served as chief legal officer since joining J. Fletcher Creamer & Son, Inc. in May of 2018. With his unique professional background in law, engineering, construction and business management, Jim has been a valuable addition to the Creamer leadership team.
After college, Jim started his career as a structural, transportation and land development design engineer. While working full-time as an engineer, Jim passed the Professional Engineer Exam and attended law school at night in New York City. Jim's legal career remained focused on construction and engineering issues and he gained valuable experience in civil and criminal practice while he worked for law firms and eventually started his own practice. His career path then took him back into the construction field when he accepted a position as general counsel for a national consulting engineering company. 
Jim's expertise involves a broad range of legal, construction, engineering and business matters including litigation, risk management, insurance, contracts, labor, employment, public bidding, compliance and corporate transactions. He has extensive operational experience and has managed corporate departments including human resources, information technology, marketing and facility management.
Jim has a Bachelor of Science in Civil Engineering from Lafayette College and a Juris Doctor from Fordham University School of Law. He is admitted to practice Law in New Jersey, New York, District of New Jersey (Federal) and the United States Supreme Court. Jim is also a licensed Professional Engineer (New Jersey, New York, Virginia, Maryland, Vermont) and a Professional Planner (New Jersey). 
Dedicated to giving back to his professions, Jim has extensive professional affiliations including serving on the  New Jersey State Board of Professional Engineers & Land Surveyors – 2002 to date; President (6 terms); working as an adjunct professor at Stevens Institute of Technology, Schaffer School of Engineering & Science; and volunteering for The College of New Jersey – Civil Engineering Department Advisory Board. Jim frequently provides seminars and lectures on construction law, contracts and ethics.
To learn more about working with our team, contact us today!