DANIEL FOWLER, P.E. | VICE PRESIDENT OF CORPORATE SERVICES & SPECIAL PROJECTS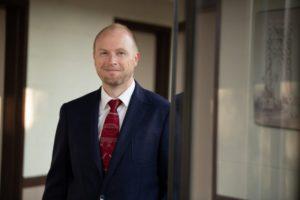 Daniel Fowler currently serves as the Vice President of Corporate Services & Special Projects for J. Fletcher Creamer & Son, Inc. In this role he provides executive leadership over Creamer's Accounts Payable, Accounts Receivable, Human Resources, Payroll, Contracts, Risk/Insurance, Marketing & IT Departments.  Additionally, he acts the Project Executive for select projects at Creamer.
Daniel's experience since his graduation from Rutgers University has been diverse. Daniel worked for two years in design before taking his first role at Creamer as a project engineer in 2002. Daniel left in 2004 to form a small business specializing in communications and audio-visual contracting. For over a decade, Daniel worked as a partner in the company developing and refining his skills in estimating, site supervision, project management as well as corporate strategy and finance. His company performed work for institutions such as Rutgers University, Army Corp. of Engineers, and various K-12 schools in New Jersey. Daniel found his way back to Creamer in 2015, joining the company as a senior project manager. During this time, he has been involved in multiple lines of business ranging from roads and bridges, pump stations, to underground utilities and substations. Daniel's forward thinking and leadership ability led to his promotion to the role of Director of Corporate Services in 2020, where he oversaw the restructuring of Creamer's back-office operations.  His relentless pursuit of excellence, continued vision, and commitment to Creamer's strategic development made him a natural fit for the role Vice President of Corporate Services & Special Projects, which he assumed in 2022.
Daniel is dedicated to the development of current and future leaders. He is a board member of the ACE Mentor Program of NJ, an organization dedicated to supporting the advancement of traditionally underrepresented groups in the architecture, engineering, and construction industries.
A member of the National Society of Professional Engineers, Daniel holds his Professional Engineering license in the states of New Jersey, Pennsylvania and North Carolina. Additionally, he holds various OSHA safety certifications. Some notable projects that Daniel supported were the NJDOT Route 21 Project in Newark, New Jersey, various 69kV upgrade projects for PSE&G in Hoboken, Newark, Clifton, Harrison and Jersey City as well as the 6th Street Sewer Upgrade in Jersey City.
To learn more about working with our team, contact us today!