ANDREW WOOD | EXECUTIVE VICE PRESIDENT & CFO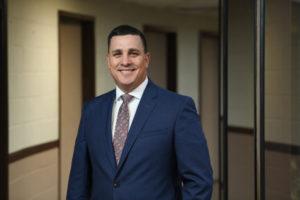 Andrew joined J. Fletcher Creamer & Son, Inc. in 1997 as a project engineer after a 10-year active duty career in the U.S. Navy as a commissioned Civil Engineer Corps Officer and a qualified Seabee Combat Warfare Officer. While in the Navy, Andrew was involved in projects in Guam, Bermuda, and Somalia.
At Creamer, Andrew was quickly promoted to project manager and successfully led over $170M of projects with major clients such as Hudson Bergen Light Rail, Schering Plough Pharmaceuticals, Roseland Development Company, PSE&G and numerous telecommunication companies with wide area network build outs. In 2001, Andrew took on the role of chief financial officer and quickly became an integral executive and strategic leader for the company.
Andrew has a Bachelor of Science in Civil Engineering from the University of Notre Dame and a Master of Science in Financial Management from the Naval Postgraduate School.
Andrew holds several professional certifications and trainings including, but not limited to: Professional Engineer (New Jersey, Virginia), Certified Managerial Accountant, and Certified Public Accountant (New Jersey).
To learn more about working with our team, contact us today!