Joseph T. Walsh | Chief Operating Officer and President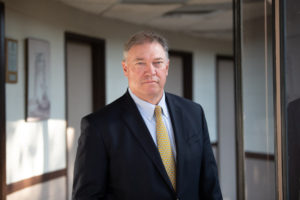 Joseph (Joe) T. Walsh was named chief executive officer of J. Fletcher Creamer & Son, Inc. in July 2020. Joe previously served as Creamer's chief operating officer and president.
Joe joined Creamer in 1995 as a general superintendent of utilities. He was promoted to vice president in 1997. In 2006, Joe became the first non-Creamer family member to hold the position of president; he added the COO title in 2016.
As President, Joe helped accelerate growth for Creamer, taking annual revenues from about $50 million to more than $500 million. Joe credits a focus on being a solutions-based company and maintain a culture that is marked by a strong work-ethic and selfless approach to customer service key factors in Creamer's continued growth.
Joe graduated from Northeastern University with a Bachelor of Science in Civil Engineering. He has a strong background in marine, heavy, highway construction, as well as various disciplines of utility work.
He began his career working with a small marine contractor specializing in pile driving, bulkheads, bridges, seawalls, and jetty work. Joe continued his professional growth estimating and building water mains, sewer mains, gas mains, underground electric transmission and distribution duct banks, treatment plants, pumping stations and meter stations in both the public and private market space.
Joe served as President of the Utility and Transportation Contractors Association of New Jersey in 2012-2013 and 2018-2019 and continues to serve as a director with the association. Joe also serves as a Trustee for the Heavy Highway Laborer's fund local 172/472.