J. Fletcher Creamer, Jr. | CEO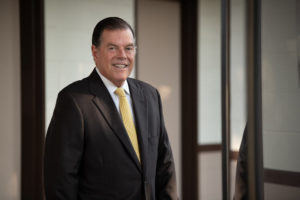 Fletcher Creamer, Jr. is the fourth generation of Creamers to lead J. Fletcher Creamer & Son, Inc. "Fletch" attended Fairleigh Dickinson University where he majored in business administration. Starting as a laborer in 1970, he advanced through numerous positions along the way to his appointment as chief executive officer in 2006. During his 30-year management reign the company has experienced steady growth and is ranked one of the most successful utility and heavy construction contractors in the nation.
Passion for excellence in the workplace is complemented by Fletch's active involvement with professional and community associations.  He was president of the Utility & Transportation Contractors Association (UTCA) of New Jersey, a trade organization with a membership of 1,300 contractors.  Fletch served on the UTCA's board of directors for 14 years and is well known for his extraordinary service on the organization's labor committee, earning him the Ronald L. Weiner Award, as well as its most prestigious award, The William Feather Award.  Fletch was inducted into the UTCA New Jersey Construction Industry Hall of Fame in 2014.
Fletch was past co-chairman of the New Jersey Laborers-Employers Cooperation and Education Trust; a trustee of Laborers Local 472 and 172 Pension and Welfare Fund, with past service as chairman of the board of trustees of the Construction Industry Advancement Program of New Jersey.
His civic and charitable endeavors include the Board of Governors of Hackensack University Medical Center for 28 years from 1991 to 2019 and chairman from 2007 to 2010; board of directors of the New Jersey Alliance for Action; and director of Commerce and Industry Association of New Jersey.  In 2013 he joined the Associated Construction Contractors of New Jersey board of trustees.  He is a board member of the New Jersey Performing Arts Center and a member of The Bergen County 200 Club, which provides assistance to families of police, fire and ambulance squads whose members are injured in the performance of their duties.  He and his wife Edie also belonged to Volunteers in Protective Services (VIPS) – mentoring disadvantaged children.
Given his extensive community and civic involvement, he has been the recipient of many awards.  He received the 2014 Felician College President's Award in recognition of his outstanding service and dedication to Felician College; the Archdiocese of Newark presented him with the 2013 Archbishop's Business and Labor Recognition Award; the 2011 Meadowlands Chamber of Commerce's Distinguished Honoree for supporting the growth and economy of the Meadowlands; the 2007 AFL-CIO Annual Labor Award's Award for Business; the 2007 NJIT Engineering Impact Award; the 2007 American Red Cross Salute to Volunteerism Award; The New Jersey Alliance for Action's President's Award; the 1997 President's Medallion Award from Felician College; and the 2000 Meadowlands Chamber of Commerce Award for commitment to the Meadowlands and New Jersey.  He has also been named one of the Top 100 Business People in the New Jersey by Business News.
Fletch is an avid sports enthusiast who enjoys big game fishing aboard the family's 72-foot yacht, the Ditch Digger.  He always finds time to attend the home games of his favorite teams, the Devils and the Giants. But most of all, he loves spending time with his family, especially his grandchildren.
He and his wife Edie reside in northern New Jersey.  His two children are members of the fifth generation to work in the family business.  Edie also has two children and together they have eight grandchildren.